Internet Marketing Solutions
What we do in a glimpse…
Professionally Managed Web Hosting | WordPress Management Services | Web Design & Development | Digital Signage Solutions | Long-tail Keyword Strategy PPC Campaigns | Retargeting Advertising Campaigns | Location / Geographic Optimization | Responsive Website Design | Directory Listing Optimization
Professional Web Hosting
Get an expert dedicated to your site's health and up-time.
We are the server administrators, web developers, and web designers. If you have ever had the misfortune of being on the phone with a call center employee who had to escalate your problem to someone else, then you understand why we choose to offer hosting.

We do it better, and you deserve an better option than the budget hosting companies. If you want accountability and reliability, then we are also the hosting company you never knew you wanted.
100% Intel CPU and SSD platform, 1 gigabit server connections, 10 gigabit rack connections—this means faster servers than AWS or Rackspace.


At least 40 gigabit low latency redundant internet connects to each data center we use.


Hosting proximity: we use 27 Data Centers to get your server closer to your market.


Complete technical support by an accountable web professional—we take care of everything. Security, Monitoring, Backups; we have your back.
Web Design & Development
We have 10 years of experience in web design and development for clients all over the United States. We know what we are doing.


100% Responsive Web Design

Multiple CMS Options

Create new branding or work with existing
Development & design services

Support with content creation

Photography services & training

Digital Signage

Marketing does not have stop outside of your business. Our digital signage offering is flexible and affordable.

"It gives us great pleasure to endorse Winterhoff Internet Solutions, Inc. They have provided us with a wonderful tool in their Digital Signage. It is indeed an asset in communicating to our patients new information about our practice, policies, and providers." Kristi Slygh, Office Manager, Western Medicine
There is a monthly fee of $20.00/mo. per screen.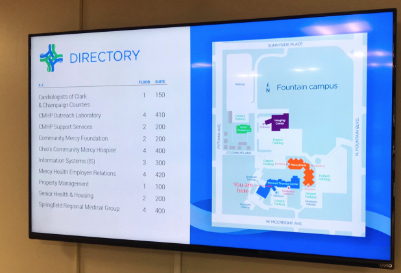 WordPress Management Services

For $25.00 per month, we perform all WordPress management tasks. We also perform and store your website backups off your website's server.
WordPress admin level accounts are required for this service. Certain hosting company restrictions may apply. Inquire for eligibility before starting subscription.


WordPress security and plugin updates

Off Site Backups

Debugging Errors from updates

Malware and Security Scans

Uptime Monitoring

Online Advertising Campaigns

Long-tail Keyword Strategy PPC Campaigns | Retargeting Advertising Campaigns

There is skill and artistry involved in getting the most conversions for the lowest cost. Anyone can bring you paid traffic—that's the easy part. The hard part is getting returns on your advertising investment. What we do, which is significantly different, is we shift what we measure from clicks and impressions to how big of a return in sales are you getting.

We've crafted and run campaigns that have had 1400% returns on the client's investment dollar, with double digit quarterly sales growth. Every client is different, but if you feel like your online advertising will line the pockets of ad networks, you should give us give a shout.
Directory Listing Optimization

We manually create or claim your local business's listings as well as populate it with images and content with major local directory listings. Then we give you the all the account information.
Local Directory Listing Optimization is an absolute must! Local Search Optimization is imperative for any business, especially if people come to your business location.
Service includes listing on Bing, Google My Business, Yelp for Business Owners, and Apple Maps Connect
There is a onetime fee of $349.00 per location.
Service Area
In person, free consultations are available in these cites and surrounding areas:
Amlin, Ohio
Beavercreek, Ohio
Bellefontaine, Ohio
Columbus, Ohio
Dublin, Ohio
Enon, Ohio
Fairborn, Ohio
Hilliard, Ohio
Huber Heights, Ohio
London, Ohio
Marysville, Ohio
Mechanicsburg, Ohio
Powell, Ohio
Springfield, Ohio
Urbana, Ohio
Vandalia, Ohio
Xenia, Ohio
Yellow Springs, Ohio
We also work remotely for any client in the United States.
Contact Us
Reach out, and let's get this relationship started...
on your terms. Schedule a one-hour call so we can talk about what you your needs are.
Click to Chat